What Being an Artisan Means to Me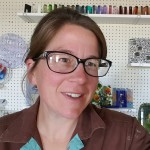 Maybe you have a story to tell, or you would like to celebrate a journey. Maybe you would like to create a completely unique space or change the experience of your space. If you're wondering: "Is it possible…?" then maybe it's time we get together for coffee.
I've spent my lifetime learning every intricacy of my materials and how I can push the boundaries technically so that I can defy your expectations artistically.
The Art we build together will gain value over time
because it's creation is an experience;
While living with you it will gain memories;
Memories… that will last for generations!
It's not just an exciting time to be in the field for the pure artistry or for the groundbreaking science being done with the medium, but for the incredible fusion of them both.
Megan McElfresh, professionally known as McElf, is a third generation glass artisan. She has studied creativity via glass in some form or another for her entire life, earning her BA in 2008 while also travelling extensively to study at Pilchuck Glass School, the Studio at CMOG, and Vitrum Glass Studio. In 2011 she moved to Buffalo and founded her own studio: McElf GlassWorks.  Her studio has occasionally been referred to as "State of the Science" because it often looks more like a laboratory than an art space. The main focus of her work is investigating ways that sculptural kilnforming and stained glass techniques can be combined.
McElf is a Professional Member of the Stained Glass Association of America; serves on the Board of Trustees of the Stained Glass School of the Stained Glass Association; is a member of the American Glass Guild; and of her local organization the Interior Design Association of Western New York.

In the News & Media
The Buffalo News "In stained-glass, a scientific display of art," by Gene Warner 
New work is unveiled at Hamburg College's McGrath Library.
Design NY 2016 "Ray of Light," Karen Marley
An ominous space is embraced by artists bringing hope and healing to a Buffalo City Park.

Buffalo Rising "Ray of Light Mural Completed @ Masten Park" by Newell Nussbaumer
       A long neglected Buffalo City Park has new artwork and new potential.
Buffalo Rising "McElf GlassWorks" by Newell Nussbaumer
       A look inside a local glass studio operation and how it got liftoff in Buffalo.