You know how most people, for fun, have hobbies? Like, maybe on the weekends they like to go to the theatre with friends? Or, perhaps they're concert addicts and they can tick off a list a mile long of all the rock concerts they've been too. Maybe they're involved in sailboat racing, like my mother-in-law. That's a little more hard-core than the standard weekend activity… but you know what I mean; pretty much everyone has something.
We just happen to be farmers. Which is, you know, like, a whole separate lifestyle? Involving back-breaking manual-labor?!? Yeah. That's our "hobby."
So, the hubbs acquired a 90+ acre piece of property South of Buffalo a few years before I crashed into his quiet, man-cave-friendly, life. When we're not working in the city, we're out there: maintaining, investing in, building up, gardening, plowing, tree-trimming… it's a LOT of work. You know, in case we wanted to take a break from working.
Then again, I complain too much – because it's rewarding, too. We are building an amazing space, an incredible landscape, a truly unique place where we CAN relax. Where we WILL relax. (One day. Maybe. If our to-do-list ever falls below a mile long…) We can't sit still anyway. We would  be terrible on a boat or in a float. On couch or chair, just chillin' out somewhere. Definitely not our style.
Back in the day, the individual he bought the property from was showing it to him and Chris was very excited because there was a two-acre apple orchard across part of the property.
And that gentlemen paused and then replied: "What? Ch'ou mean that thornbrush?"
(FYI – we can't relive that moment without GROSSLY exaggerating that man's accent.)
It's true. The orchard, left forgotten, had long ago become overgrown with crabapples, thornbrush, and other prickly weeds. It is a challenge of epic proportions to attempt to recover some of those trees. And quite a few are coming alive again with his careful care. Some will be lost forever. At least one might because an impressive fort. (We're getting good at those.)
Another gem I found on the property was thistles. We have at least 5 varieties of the plant on the property. This was especially exciting for me as I grew up hearing a story about thistles that I found almost verbatim online:
The story Behind the Scottish Thistle – the national emblem of Scotland
'A Prickly Tale' By John A. Duncan of Sketraw, KCN, FSA Scot.

The prickly purple thistle was adopted as the Emblem of Scotland during the rein of Alexander III (1249 -1286). Legend has it that an Army of King Haakon of Norway, intent on conquering the Scots landed at the Coast of Largs at night to surprise the sleeping Scottish Clansmen. In order to move more stealthily under the cover of darkness the Norsemen removed their footwear.

As they drew near to the Scots it wasn't the only thing hiding under the cover of darkness. For one of  Haakon's men unfortunately stood on one of these spiny little defenders and shrieked out in pain, alerting the Clansmen of the advancing Norsemen.  Needless to say the Scots who won the day.
I always felt like the thistle in that story symbolized the nature of life really well. And it's certainly physically true on our property: barefoot-friendly we most certainly are not.
So we named our place "Thorn 'n Thistle" a few years ago. For us, this symbolizes not only the elements of the physical property, but what it means to us emotionally.
So the name of our farm is a tiny fistbump to what it takes to live a life 'outside the box' and build a life for our family outside the confines of the normal.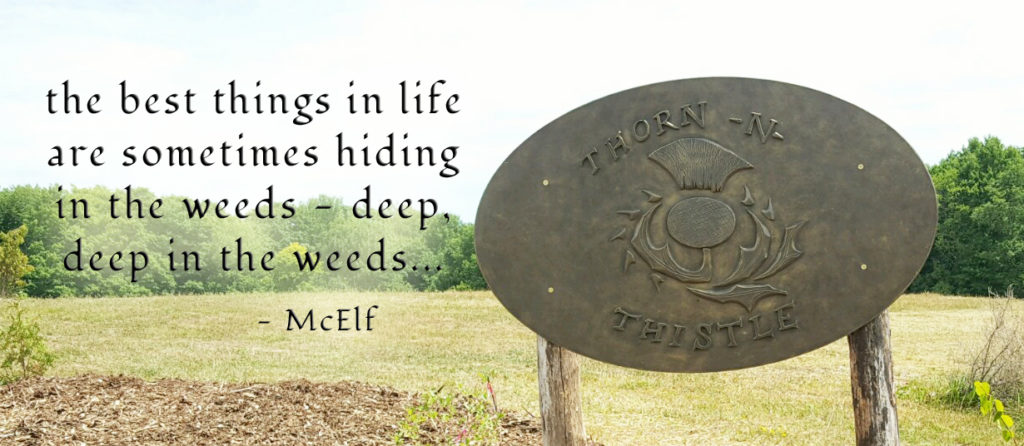 Kidding. We only thought about it that hard in retrospect. It really just started as a joke. We like it because it makes us feel badass. True story.