We have enjoyed working on a wide range of projects from large mosaic installations in Public Spaces to sculptured windows in Private Places — browse through the galleries to experience the work coming to life!
Ray of Light Mural, Masten Park, Buffalo

This mural is in honor of all those people whose lives have been affected by domestic violence, bullying and despair. Presented by Buffalo Arts Studio: Mural designed by Augustina Droze, created by Augustina Droze & Chuck Tingley; Mosaic columns designed by Augustina Droze & Megan McElf, created by Megan McElf, McElf GlassWorks. Built October 2015​, Masten Park, Buffalo, NY​
About Ray of Light Project (PDF)
---
à la Peacock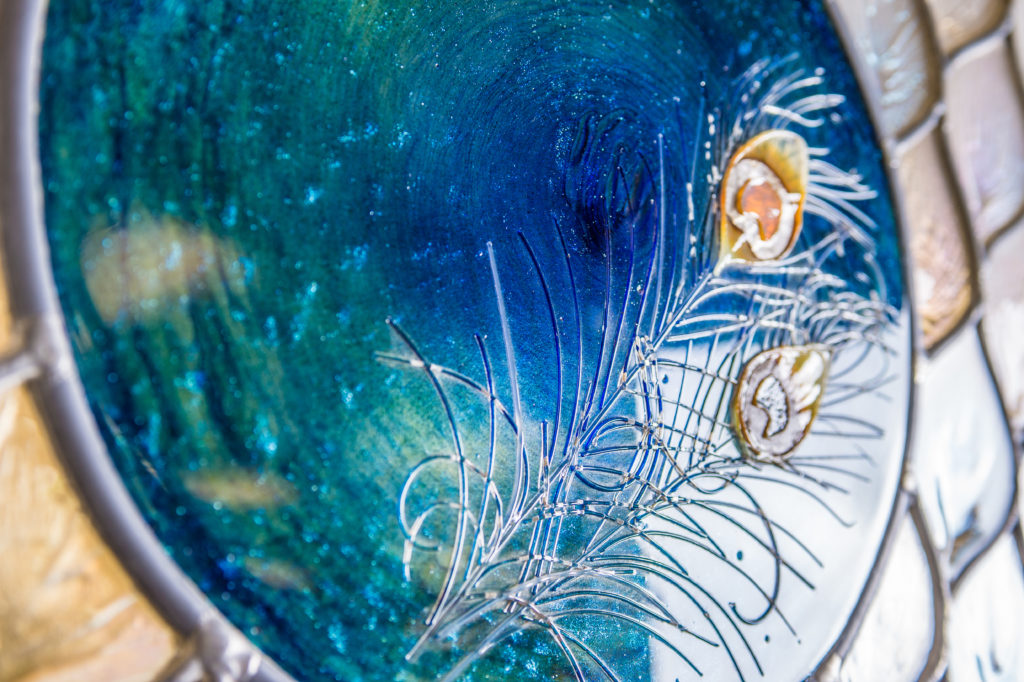 I loved to watch birds with my Grandfather – Pops – and we often teased the mighty Peacock and all his plumage. But clearly, there's an implicit challenge in that plumage more than a passing fancy: artists and designers have tried so hard to make adequate impressions of those fine feathers for century after century. I guess at the end of the day, I just wanted my own go. Read more about the project »
Built in 2016 and now in a private residence in South Carolina.
---
​Madison Square Project, Philadelphia
Stained Glass Transom with Kilnformed Elements for Historic Row House Bow Window in Philadelphia, PA. Design incorporated handmade glass, sandblasting, cast and kilnformed elements with metal overlays – thus, piece was not only constructed on a curve but had 3-D elements. Was installed as a custom double paned window with protective glass to the exterior so air vents were necessary to construction in addition to internal reinforcement. Set on a 4'6"R, center panel measured 2'w x 3'H & side panels measured 9"w x 3'h.
---
Notable Commissions
---
Private Work